¡@

Updated: 1999/05/29
---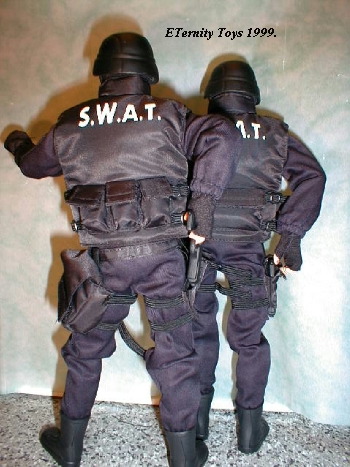 ** S . W . A . T .**
Components of S.W.A.T. uniform set
-helmet w/ belt
-balaclavas (new one with 3 holes)
-jumpsuit (dark blue in color)
-anyone of the 6 different SWAT tactical vest(with all usable pockets)
-pair of glooves
-helmet/gasmask pouch w/ independent thigh belt
-handgun pouch
-a waist belt
-pair of boots
-a MP5
-a handgun
Vest 1 images with Dragon's Adam(ver.1.0)
Vest 2 images with 21st Century's Sam
Vest 3 images with Dragon's Adam(ver.1.0)
Vest 4 images with 21st Century's Sam
Vest 5 images with Dragon's Adam(ver.1.0)
Commander vest images with CC GIJ figure
See the details of the pockets made! All of them can put the equipment like freshbang, map, ammo-pouches, shotgun shells, walkie-talkie, gas-grenades, gas-mask & etc. in!
All the 6 SWAT Tactical Vest.
More images of SWAT sets with CC GIJOE, 21st Century's Sam & Dragon's Adam figures.
They are all US$50 each set shipped. Figures not including.
Click to order or further inquiry
---
[Home] [Dragon 12" action figures] [Dragon's Robocon action figure] [HKSDU] [Special Discount]